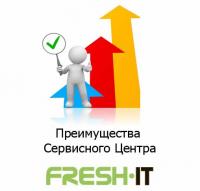 When choosing a Service Center, you probably noticed the advantages and disadvantages of a particular service. And all off them have their pluses, but not all are obvious and understandable on a first sight.
Many of our customers found out features only after the second or even the third use of the service center. And it is very difficult to get every single customer acquainted with all the features of our work , moreover not everyone has time to listen and to remember such a huge amount of information. So we decided to collect all the features of our service center in one big article.
You can find more detailed information on each advantage of our Service Center by clicking one of the corresponding links for a separate article on this site.
Discounts for regular customers
We appreciate our every single customer. Since a repair of any digital appliances is quite expensive, for our regular customers we have a discount (even when applying to us only for the second time, you will get a 5% discount). The longer you work with us, the less you pay for repairs.
More details on the terms of discounts for regular customers FreshIT Service Center can be found here.
Free diagnostics
Referring to discounts, we can't forget mentioning about one of our first promotions, which became permanent - "Free diagnostics of defects". We thought that if you brought the device, and agreed to repair it, then the diagnostics will be absolutely for free for you (as opposed to most other services).
If a repair is not possible or pointless (the repair cost exceeds the half of the market cost of the repair), you can just take the device with you or leave it for spare parts, thus earning little money at the same time. More information about the terms and conditions of this promotion can be found here.
Payment by credit card
We try to find an individual approach to each client. Therefore, if you don't carry cash and prefer to pay via a card, then we have a terminal of PrivatBank for you.
Using the terminal, you can pay for all services of the Service Center by means of a payment card, including a credit card. The terminal works with Visa and MasterCard. The cost of a repair for you is exactly the same as with cash.
More information about the terms of use of the terminal and credit card payments can be found here.
Warranty
When applying to the FreshIT Service Center, you get such a warranty as for the work performed and for components set by our service engineers. The warranty period for components starts from 1 to 12 months, and for work - from 1 to 3 months.
More details on the terms of the warranty for parts and work performed can be found on the following pages: warranty for work and warranty for components.
Moneyback
We always admit our fault. No one can give a 100% warranty, therefore if the repair isn't possible, we just refund your money.
More information about the refund, you can read here.
Automation
All devices brought to our Service Center for repairs are registered to our database, which allows our operators, who work with clients, to respond to all your questions promptly, and you keep updated. Even if our operator can't reach you, you will receive an automatic sms with a number of your repair bill or sms that your device is diagnosed and the repair cots requires an agreement, sms with a cost of the repair, if your device is successfully repaired.
All sms include our telephone numbers by which you can quickly contact our operator and clarify all the information you need about your repair.
Agreement on the cost of rea pair
At the stage of your device repair registration, our operator sets the optimal cost limit at which your device can be repaired without agreeing with you. You can increase this limit in order not to burden yourself with an additional agreement with the operator in case of exceeding the cost limit, or you can decrease the limit if needed.
If the cost of repairs after the diagnostics would exceed the limit, the final cost of the repairs necessarily be agreed with you by phone. If you are not satisfied with the final cost of the repair, you can always refuse repairing with us and take away the device.
More details about the agreement on the cost of a repair, you can find by clicking here.
Work with regions
Our undoubted advantage over the other service centers is that we work with all regions of Ukraine. It means that if you don't live in Kharkov and there is no good service center in your settlement or you are refused to repair the device, you can send the device for a repair to FreshIT Service Center. Delivery of tablets, smartphones, monitors, or of any other appliances is carried out by the Nova Poshta.
You can find more information about how to send the device for a repair to FreshIT Service Center through the Nova Poshta by clicking here.
Work with legal entities
In the FreshIT Service Center we find an individual approach to each customer. That is why we have created all conditions for work not only with individual, but also legal entities.
If you are a representative of a legal entity, then you can repair the digital technique profitably with the registration of all necessary documents.
For more information about conditions of work with legal entities at FreshIT Service Center can be found here.
Formulatiopn of technical conclusion
There are cases when a client (especially if he is a legal entity) needs an official document confirming the conclusions of a Service Engineer about a specific issue, the reasons of its appearing, the necessary repairs and the cost, or inability to perform a repair.
In the FreshIT Service Center you can get an official technical conclusion - the so-called act of fault detection.
Read more about the conditions of the fault detection act receipt in the FreshIT Service Center by following the link.
Candies in the waiting-room
In the waiting-room of the FreshIT Service Center there are always delicious candies for every taste, sweeten yourself while waiting for the registration of your device. Again, a small thing but agree it's nice.
Turnaround time
All work is done on time. If a period of work exceeds the set turnaround time for some reason, then we will definitely inform you about this and give a discount on the work performed.
Social networks
We are gradually absorbed into the social networks. Currently groups, pages and communities of the FreshIT Service Center are such social networks as VKontakte, Facebook, Google, Twitter. If you are subscribed to these pages and groups, you can also participate in the contest. Also with the help of social networks it is convenient to monitor the promotions and news of the Service Center.